What does it really mean when the two of you agree to be in an exclusive relationship? What, exactly, goes into a commitment like that?
What defines an exclusive relationship?
You've been dating for a while, and you're ready to take things further, to get a deeper commitment. What should it look like? Are you ready to be exclusive?
Sometimes the phrase "exclusive relationship" gets tossed around too casually — maybe you've even started using it about a relationship and he isn't even aware that you wanted to be exclusive (or know what those boundaries are).
You can easily get yourself into a mess if you apply this term to your relationship without thinking it through and talking about it with your guy.
No worries, you'll find all the info you need below, INCLUDING the "having the conversation" stuff!
Being exclusive isn't a good way to BEGIN a relationship.
You begin with casual dating.
The first few dates you're just checking each other out. Learning the basics. Finding out whether he binge-watches Walking Dead like you do, or owns the Barry Manilow's Greatest Hits album. On VINYL.
But let's say you think he's amazing, and you're pretty much head-over-heels in love…
Are you in an exclusive relationship now?
Nope.
An exclusive relationship is not the same as being "in love"
The first explosive, he-lights-up-all-my-circuits phase of being in relationship with someone is often where women stop dating other guys because they are so "in love."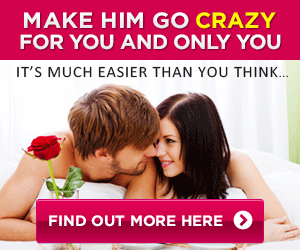 Don't do this! Because pretty soon you ARE going to get a little more balance back in your life, and you'll be better able to make this important decision.
Sure, he's wonderful, but later you'll discover that he also has a few annoying characteristics (just like you do), and besides, the REAL test of your relationship will be how well you get through your first arguments, disagreements, and outright battles together.
So wait a bit longer, sweet sister…
An exclusive relationship is when you BOTH intentionally STOP DATING other people.
That's the biggest part of what being in an exclusive relationship means:
Two people. Nobody else. By design.
It's not exclusive if YOU decided not to date other guys, but he's still seeing other women, or even still open to it.
Even if you don't want to keep dating other men, be open and looking around until the two of you actually talk and agree to an exclusive relationship.
Which brings us to the next point:
An exclusive relationship is something you BOTH talk about and AGREE to.
If you never have the actual conversation about it, it simply isn't clear.
Guys don't do hints. They don't do "unspoken agreements," mind-reading, or accurate predictions of what you might want.
Listen, girlfriend. You should NOT be scared to talk to him about your relationship! And if you're uncertain about what to say, I got you covered. Read on!
Watch this video to find out just how easy being loved and cared for is when you know these relationship SECRETS...
How to have the "let's be exclusive" conversation…
Be sure to choose a good time and place. You don't want to have this conversation online, or over the phone, or during a particularly stressful time.
Get your heart in a calm, open place, and gently set up the conversation.
Here's a good process to try:
Recap your relationship in a sentence or two, and share how he has made you feel.
Tell him that you're wondering if the two of you should stop dating other people.
Ask him what he thinks.
It might sound something like THIS…
"Brad, we've been dating for the past 3 and a half months, and you still make my skin all shivery every time I see your sexy grin.
You were awesome when that hurricane got close and you left work to help me board up the windows (and brought me my first bottle of Jamison Gold.) You made me feel incredibly special and cared for.
Someday I want to stop dating other guys and start thinking about building a life with the one man who makes my universe so much more beautiful…
Do you think the two of us are ready to stop dating other people?"
That should open the floor for an in-depth, honest conversation about the future. Which is important, because:
An exclusive relationship is like a "pre-engagement"
When the two of you agree to be exclusive and ONLY see each other, then you're entering a pre-engagement type of arrangement.
You're saying, "This is the person I think I could spend my life with." You are testing out that idea.
No, it's not as binding as an engagement, but it's a step along the way, and you both should take it seriously. And let your heart be filled with hope!
Because you CAN do this, beautiful!
[Video] Never Lose Him: Why men pull away, and how to KEEP him in love with you
There are 3 ridiculous reasons why men pull away, which may seem insignificant and harmless to you, but are a BIG RED FLAG to men…
Find out what these three things are and make sure you never scare off the man you deeply care about and want in your life forever.
Find Out More
Once you know this you'll be able to bring your man back to you as fast as a lightening bolt, or if you're single and dating, you'll be able to grab the attention of any man and have him mesmerized by you and scrambling to get your full attention.
Find out just how easy being loved and cared for is!
This is a must watch video for ALL women wanting to experience real and magical love.
Nadine Piat knows how to make GREAT love happen. And FAST.
In fact, I'm sure she won't mind if I tell you this… because what Nadine reveals in this video is what she personally used when she was dating a man who was emotionally detached from her to being in a beautiful relationship with a man who before meeting her he had never wanted to get married and have children – to wanting forever lasting love and commitment with her.
So not only has it worked for thousands of other women, it worked for her too!
Want More Love in Your Life?
Take my FREE Love Number Quiz, get access to private posts and free ebooks ONLY for you, and see YOUR questions about men, dating, and relationships... Answered!